Usage
data

(

"jz2017"

)
results <-

 

ssm_analyze(
  

.data =

 jz2017, 
  

scales =

 

c

(PA, BC, DE, FG, HI, JK, LM, NO), 
  

angles =

 

c

(

90

, 

135

, 

180

, 

225

, 

270

, 

315

, 

360

, 

45

), 
  

measures =

 

c

(NARPD, ASPD)
)
Correlation-based Structural Summary Statistics with 95% CIs

| Profile | Elevation | X-Value | Y-Value | Amplitude | Displacement | Fit |
| --- | --- | --- | --- | --- | --- | --- |
| NARPD | 0.20 [0.17, 0.24] | -0.06 [-0.09, -0.03] | 0.18 [0.15, 0.21] | 0.19 [0.16, 0.22] | 109.0 [99.2, 118.9] | 0.957 |
| ASPD | 0.12 [0.09, 0.16] | -0.10 [-0.13, -0.06] | 0.20 [0.17, 0.24] | 0.23 [0.19, 0.26] | 115.9 [107.4, 124.4] | 0.964 |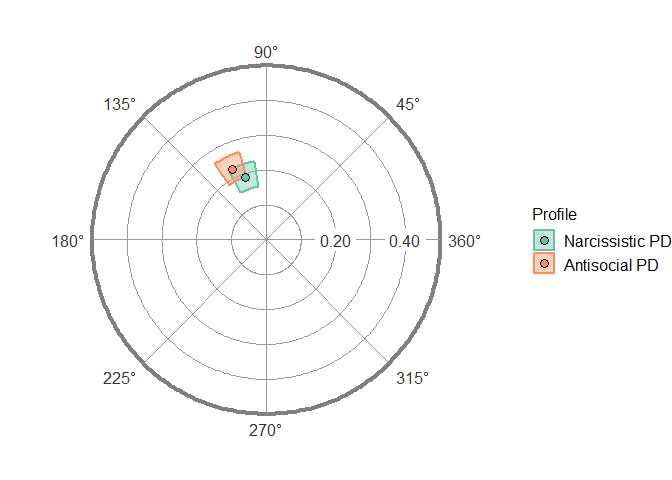 Code of Conduct
Please note that this project is released with a Contributor Code of Conduct.
By contributing to this project, you agree to abide by its terms.
References
Girard, J. M., Zimmermann, J., & Wright, A. G. C. (2018). New tools for circumplex data analysis and visualization in R. Meeting of the Society for Interpersonal Theory and Research. Montreal, Canada.
Zimmermann, J., & Wright, A. G. C. (2017). Beyond description in interpersonal construct validation: Methodological advances in the circumplex Structural Summary Approach. Assessment, 24(1), 3–23.
Wright, A. G. C., Pincus, A. L., Conroy, D. E., & Hilsenroth, M. J. (2009). Integrating methods to optimize circumplex description and comparison of groups. Journal of Personality Assessment, 91(4), 311–322.